How to Pack for a European River Cruise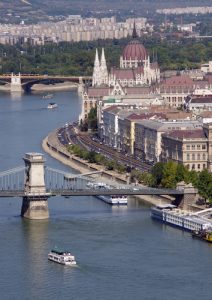 European River cruises have become very popular and for good reason. They provide scenic, effortless sightseeing, transportation from one beautiful port city to another, and you don't need to switch hotels every few days.
How should you pack to enjoy excursions, dinners and evening events while traveling by riverboat?
I just helped a client plan for her Rhine River cruise in August and my husband and I are getting ready to depart for a Danube River cruise this month, so the answer is top of mind right now!
Packing light is key
You've chosen to vacation via a riverboat, not an ocean cruise ship! There are distinct differences between the two that impact packing:
•  Riverboats are limited in size by the dimension of the river locks and the height of bridges. Individual cabins range from very compact to small unless you have a suite.
•  Storage space is minimal so even if you wanted to pack a different outfit for each day and evening, there is little room for it. Closets are quite small and drawer space is limited.
•  Luggage is stored under the bed so it's not possible to live out of a suitcase (as I usually do in a hotel room).
This is the time to pack light. My client and her husband, as well as I and mine, are each packing one 21" rolling bag (that can be checked or carried onto the plane) and a smaller "personal item" to carry on the plane (a tote for the ladies, a canvas briefcase or duffel for the men, that will fit under the seat).
Wardrobe tips
River cruises tend to be more casual than ocean cruises. Cruise lines send out helpful packing lists with the cruise itinerary but you need to be the one to research weather forecasts. Dress for comfort and function. For cooler climates, layer; for warm, pack breathable fabrics. (See my post on How to Choose Smart Travel Fabrics.)
ŸŸ•  To avoid over packing, take a "less is more" approach to your wardrobe. Each piece should work in a variety of ways and be able to be worn more than once while still looking fresh. This is when a capsule wardrobe takes top billing! Pick a color palette that mixes and matches. I plan around 2 basic colors (neutrals are best) and 1 accent color.
ŸŸ•  Choose fabrics that are easy-care and won't wrinkle. I love the rayon/spandex knit separates in the Wearever Collection by J.Jill that can go from day to evening and be worn comfortably even in very warm weather. And the no-iron shirts from Chico's always look crisp.
ŸŸ•  For shore excursions sporty, casual separates (pants, shorts, skirts, tops) in lightweight knits or woven microfibers are ideal. And many of the new hi-tech fabrics have sweat-wicking qualities and don't absorb odors so you can wear them more than once. Note: Some riverboats offer laundry service but be prepared to hand wash and drip dry items you want to wear frequently.
ŸŸ•  For evenings aboard, "resort casual" attire is appropriate. Yes, you may see some fellow travelers go right from touring to dinner with only a simple "tidy up", but I prefer to freshen up with a change of clothing: my no-iron shirt will top a black pant for dining onboard; the look changes with accessories (costume jewelry or a scarf).
ŸŸ•  For special occasion dinners when dressier attire is suggested, consider packing 1 pair black pants plus 2 or 3 dressy tops; or 2 or 3 pieces of "statement" jewelry to wear with the same black knit shift dress. Pack a colorful shawl or scarf to create even more looks with simple basics. Fellow passengers will admire your creativity while envying your smart packing.
ŸŸ•  Plan for changeable weather. Pack things to span temperature swings and enable you to be outside regardless of weather. You're in a town for only a few hours and you need to make the most of it! Choosing lightweight pieces that pack into small spaces is key:
            – A lightweight waterproof hooded jacket. This can also serve as a windbreaker if you choose to take a bicycle tour. Note: Many riverboats provide umbrellas but I always pack a small collapsible one that's easier to manage.
            – A down vest that stuffs itself into a tiny pouch (Uniqlo's are great and well priced). It can be worn over your clothing or as a base layer under a windbreaker.
            – Leggings are a fabulous space-saver. Add a pair to a summer tunic dress for cooler destinations on your trip.
            – I always pack a short-sleeve tee in the fall or winter in case of a heat wave and a long sleeve Uniqlo Heattech top in case of a cold snap in the spring or summer.
            – And don't forget a hat to protect you from hot sun.  Wallaroo has a nice selection of packable styles with a UPF 50+ rating. I roll mine up to tuck it into my carry-on tote.
Footwear
Take no more than 3 pair of shoes – travel in one, pack two. You'll want a comfortable walking shoe with good ankle support for day excursions, as the terrain is likely to be uneven. A rubber sole is recommended for onboard. For evening, simple dress shoes or sandals that will also work with everything. I often favor ballet flats with formed rubber soles that support my feet and make walking easy (check out the ones featured in our recent Tips for Travelers newsletter). Be sure to change your day shoes for another pair at night to give your touring feet a rest.
Packing tips
ŸŸ•  Roll your knit pieces to fit them tightly into your suitcase; use compression bags to fit bulkier items into smaller spaces.
ŸŸ•  I prefer to pack non-knits via the interfolding method (view my video for the how-to).
ŸŸ•  Separate your shoes and tuck small items, such as socks, inside each to create more space in your suitcase.
ŸŸ•  Ditch your pretty cosmetic and toiletry bags – they are much too bulky! Divide your items between 2 or 3 clear zipper lock bags and pack them into the crevices in your suitcase. The new Ziploc© slider quart-size bags have a gusset that enables you to stand them up on your sink.
Bottom line on packing for a river cruise: Pack light, pack smart . . . and bon voyage!
Note: For a personal testimony on light packing for a European river cruise, plus a detailed packing list for a fall trip, see Susan Foster's article in our Tips for Travelers newsletter.
Update: I just shared details of my summer river cruise in our August 2017 newsletter.