Proper Fit Makes a Difference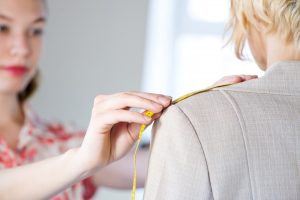 A well-dressed woman knows the value of a good tailor or seamstress to fine tune the fit of her clothing. RTW is not always "ready to wear" and a proper fit is critical to making your best impression, both personally and professionally.
Here's what Susan, an emerging business leader who worked with me on her professional presence, discovered:
"I've become one of my tailor's best clients thanks to your shining light on the difference a proper fit makes. I need to get almost every pant and jacket I purchase altered, but it's well worth it. I can't help but observe other people's clothing and whether it fits properly. The direct correlation between proper fitting clothes and levels of success within an organization is glaring." 
What Does Proper Fit Look Like?
Wardrobe consultant Nancy Nix-Rice describes it well in her book Looking Good . . . Every Day: Style Solutions for Real Women: "Excellent fit means more than just 'I can zip it.' It means the garment flows gracefully over your body without pulling or binding, sagging or bagging. It means that garment details such as darts, shaping seams, and hems fall at the ideal level."
Here are a few proper-fit guidelines for classic basics:
Jacket:
It buttons smoothly, even though you might not wear it buttoned. If it doesn't even pull together you are telling everyone "my jacket is too small"!
The back lies smoothly across your shoulders without a bubble behind the neck.
The shoulder is ¼" – ½" wider than blouse shoulder.
The waistline curve or seams are at your natural waistline; a back vent hangs perpendicular to the floor.
Sleeves end at or just below the wrist bone. Note: Rolling up a tailored jacket sleeve tells everyone it's too long and you were too lazy to alter it!
Pants/Straight Skirts:
They look and feel comfortable at the waist (room for two fingers gives you wiggle room).
They flow smoothly over hips and hang straight from the hipline; pockets or zippers lie flat against the body.
Pants do not bind at the crotch and there's neither tucking nor drooping under the derriere.
Fitted Blouse:
The neckline hugs the base of your neck without wrinkling or gaping; the sleeve is set in at your pivot bone.
Bust darts point to, but stop within 1″ of the bust point; the front doesn't gap at the bustline (this calls out "it's too small").
A long sleeve ends where your wrist breaks as you bend your hand. Note: it peeks out under a jacket sleeve 1/4″- 1/2".
Shopping for Proper Fit
Sizing varies by manufacturer. Your size is the one that gives you enough fabric around the largest body area the garment is designed to cover.
Horizontal wrinkles are indication clothing is too tight. Too-small clothing tells everyone else you should have gone up a size. Vertical wrinkles can indicate clothing is too loose. If too loose, you risk looking a bit dowdy or sloppy.
1. Know your Body Style and shop in the right department:
Misses sizes fit women 5'5" and taller; Petite sizes fit women 5'4" and under. However, you might be 5'6" and find that petite fits your proportionately shorter legs or waist better so pair petite pants with a misses jacket, or vice versa.
Women's sizes are shaped more generously for a thicker body. If you have a thicker torso (round or oval body style) you might choose tops in a women's size but wear misses size pants and skirts.

2. Take several sizes with you into the dressing room. If you are "usually" a 10, take both an 8 and 12 into the dressing room.
3. If a garment is tight in one area, try going up a size. Buy to fit your largest area and have it taken in to fit the smaller areas – it's easier to take in than to let out. (Note: Off-the-rack pants rarely fit both waist and hip. Buy to fit the larger and have the other taken in.)
4. Check garment fit using a 3-way mirror. I'm often disappointed by shops that do not have a 3-way mirror so I keep a small hand mirror in my shopping tote to be certain I can get a rear-end view.
5. Finally, test the fit of tops and bottoms both standing and seated; also, bend your arms and raise them overhead. You want to be sure you can move freely and comfortably in any garment.
Ladies, don't let poorly fitting clothes undermine your image. Even the most expensive clothing can work against you if it's "too small here and too big there."  Get thee to a tailor for alterations!
It often takes two to assess proper fit. Don't hesitate to give me a call or send me an email for a complimentary 30-minute consultation on how to perfect the fit of your clothing. It will be my pleasure to assist you!