The Closet Edit . . . Easy as 1-2-3!
A few days after severe cold weather swept across much of the country, Mother Nature brought unseasonably warm temperatures to my area and had me thinking "Spring." And with that the seasonal closet cleanout!
I personally prefer to think about it as a closet "edit" because unless I'm pinched for closet space, I don't like to throw the baby out with the bathwater! I never know when a favorite item that I've not worn in quite some time will be just right for a certain occasion.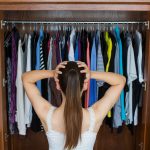 WHAT SHAPE IS YOUR WARDROBE IN?
If you moan that you have a closet full of clothes but nothing to wear, then it's time to seriously assess your wardrobe. If you've had a lifestyle change of any measure, your clothing choices might need to change with you. This doesn't happen overnight, but taking time to edit your closet at least twice a year will help you build and maintain a wardrobe that works for you, not against you.
HERE'S HOW:
A closet edit really has no season, although the beginning of spring and fall are typical, especially if you have a routine of switching closets seasonally. But why not set aside some time now, early in the year, to assess your wardrobe and gain control of the image you want to project? Not to mention streamline your closet and make getting dressed faster and easier. 
Schedule a full morning or afternoon, if you can. If easier for you, take an hour a day over a long weekend. I like to set the mood with music and a cup of coffee or, if late in the day, a glass of wine! Style your hair and put on makeup – you'll be trying on most of your clothes and nothing will look good if you don't.
You need to assess each item carefully, based on its fit, color, style and function and then decide to keep it, or let it go!
 It's an easy 3-step process:
Pull everything out of your closet and "dresser" drawers. Your goal is to divide and conquer: What to keep versus what to let go of.
Group like items together. I like to start with bottoms, then tops, dresses and shoes. (If you need to spread this project over a few days, you could tackle one type of garment per session to make it less overwhelming.)
Try everything on. You can't tell how something looks by just holding it up to yourself. You have to see it on you. Let's face it, our bodies can change one year to the next. Be sure to try on the right shoes and undergarments with each item.
Note: Don't forget your underwear, socks and hosiery, and accessories (scarves, jewelry and bags) as part of the overall process. These may not all be in your closet but they deserve the same editing process.

KEEP, RETIRE or TOSS?
Clothes you love and wear are an automatic "Keep". But if your goal is to have a wardrobe that works for you today, you need to be honest with yourself. Our bodies, our coloring and our tastes all can change, not just our schedules and activities. Your wardrobe should match who you are now.
Ask yourself these 3 questions:
Does it fit?
Is it flattering?
When did I last wear it and/or when will I?
An item does not belong in your closet if:
Ÿ• It doesn't fit you properly. What's the likelihood of it fitting in the future? Can and will you alter it? Having a good seamstress nearby is a must.
Ÿ• The color isn't flattering. When you wear a color that's good for you, your personal coloring (skin, eyes, hair color) is enhanced. If a color seems to overpower or dull your personal coloring, you don't want it in your wardrobe. At its worst, wearing a color that's not good for you can be aging!
Ÿ• The style just isn't you, it isn't age appropriate, or it doesn't match who you are now or who you want to be.
Ÿ• It's ripped, stained or simply worn out (this should go without saying) or it's dated. Yes, a style can come and go and come back again but it seems that styles never come back quite the same. 
Ÿ• You aren't wearing it and/or you haven't worn it in two years (in one year if you want to be ruthless!), because chances are you won't. This is a tough one, but if it doesn't have a function in your lifestyle today, it's a waste of space in your closet.

Are there exceptions?
Yes! If your lifestyle has changed, yet there is a chance you will need it in the future, then consider keeping it. When I left the corporate world for a more casual work style and lifestyle, I didn't want to let go of all of my good business attire. One solution was to find new ways to wear my favorite pieces, for example, pairing a suit jacket with jeans and boots. 
I also have an assortment of evening separates, none of which I wear every year (but all of which are timeless in style), that I will continue to keep as long as they fit and flatter because I don't want to have to buy something for a singular event each year.
Bottom line, unless you're pressed for space or committed to a full wardrobe overall, don't retire it if it fits, flatters and functions* in your life. That's the formula for looking and feeling good! 
HOW TO HANDLE THE CAST-OFFS:
They may be losers in your closet but winners for someone else:
• Friends or relatives – it may no longer be "you" but someone else might love it.
• Consignment shops generally pay 50% of the resale price and/or give you credit toward a purchase. Clothes need to be cleaned, pressed, repaired, current and seasonally correct. And there's a fast growing online marketplace for buying and selling clothes, from eBay to the luxury consignment site TheRealReal. 
• Dress for Success – The clothing they provide women is primarily for job interviews. Most chapters can only accept items in clean and good condition, current style and all-season weight, and on hangers.
If you don't have a Dress for Success group in your area, check with your local technical community college. One in my area has established a clothing "closet" built from donations that offers free business attire to their students. It was the perfect place for me to donate the business clothing I could no longer use.
• Goodwill or other charitable organizations are the best place for gently worn, out-of-season clothing, and your contribution will be tax deductible.
• What about worn-out or torn items? Before trashing them, please check online for a recycler in your area who accepts and reuses textiles.
Note: Americans throw out, on average, 81 pounds of clothing a year per person, according to a recent study by Savers, a global thrift retailer, when 95% could be reused or recycled. So when it comes to fashion and sustainability, let's all think responsibly.
Is your Closet Edit complete? Congratulations! You've taken a major step toward streamlining your wardrobe so that it works for you! Going through this exercise at least twice a year will help you keep your closet streamlined while it serves you and your lifestyle. For a handy wardrobe editing guide to keep in your closet, click here.
* "Fit, flatter and function" is a fashion 'mantra' I learned from image consultant Doreen Dove in her book Confidence is Always in Style. 
Related posts:
•  Does Your Wardrobe Fit Your Lifestyle?
•  How to Build Your Wardrobe With Your Best Colors