Dressing Well at Any Age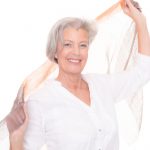 To women who are of a certain age (as I am), I say, "Don't let age or lifestyle be an obstacle to dressing well!" When you put on an outfit that flatters you and speaks to your style, you'll feel more confident to take on any challenge, especially since dressing well is said to boost self-esteem.
Putting together stylish outfits – for travel, volunteering or part-time work – takes a bit of effort. Sometimes it helps to seek out advice from others who easily express themselves through fashion to give life to what we find inspiring.
An easy way for us to find this inspiration and catch up on trends is to browse the pages of online senior fashion influencers. Age is no obstacle to being a fashion icon. SeniorAdvisor.com recently published a list of 20 Senior Fashion Influencers and Resources. Getting the latest tips from these seniors who have found their unique style can help you polish your look for the day, even if you are just meeting up with friends for a game of mahjong or bridge.
While the web is full of fashion influencers, there are a few I follow to help me transform my wardrobe – which is transitioning from a corporate career look to one better suited for active retirement — into a closet of trendy threads.
Beth Djalali is a blogger with a keen eye for knowing how to put timeless outfits together. Hailing from the Midwest, Beth has lived and traveled around the world. Blogging since 2014, with Style at a Certain Age, Beth offers style that is thoughtful and fashionable. Although Beth suggests a certain audience for her blog, any woman at any age can find ideas and inspiration in her understanding of how classic, chic style works. Her outfits of the day (ootd) feature versatile, affordable pieces that can be worn over and over again. I love getting Beth's posts in my email each morning!
Advanced Style is a blog run by photographer Ari Seth Cohen devoted to "capturing the sartorial savvy of the senior set." His first book, Advanced Style, has become a fabulous reference for me on a "strikingly fashionable segment of society . . . amazing older women." His blog often takes me 180 degrees in wardrobe style from Beth Djalali! I love that Ari features pictures of seniors looking fabulous in styles all their own . . . and yes, many are a bit more avant-garde than I would be comfortable wearing now but they inspire me to try something different as I get older and become less guarded!
These are only two of many fashion influencers on the web today that can give you the inspiration you need to add style to your life. Remember, when you look great, you feel great . . .  and you step out the door with confidence!
Note: Many thanks to Sally Perkins, content manager for SeniorAdvisor.com for inspiring and contributing to this blog post.