Wake Up Your Winter Wardrobe!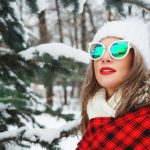 The holidays are over and we're into the New Year. How I would love to hit the "total refresh" button on my closet but it isn't Spring yet!
If winter is starting to make you, too, feel drab, you might need to wake up your wardrobe. When it's cold or gray or snowy outside, our closets need to cheer us up, make us feel good. Does your closet inspire you . . . or is it in a deep freeze with lots of black, gray or dark brown, craving some spring-like color?
With most stores offering deep discounts during clearance sales, it's tempting to run out and buy something new. Maximize your time and money – shop for colors that mix with your winter basics but can also move into spring. And, if your budget is tight, you just might be able to perk up your wardrobe up by shopping in your own closet – I did!
Here's a fun and easy four-step process to guide you whether you are shopping in your closet or the stores:
1. Get inspired – Flip through fashion magazines and store catalogs and peruse Pinterest for fashion looks that suit your style. Focus on how items similar to those you own are put together to create various looks. This week I went to a few fashion retail sites that feature "Look Books" – Halsbrook, Cabi, Carlisle and Worth – to find items similar to those in my closet and get ideas to perk them up (a scarf, jewelry, a different way to wear it). I "pinned" many photos and set up my own "Look Book" board in Pinterest so I wouldn't forget. (I do this for all of my clients but had neglected myself!)  
2. Mix up your pieces – If you've been wearing your clothes in the same combinations over and over, now's the time to look at each piece differently. Lay different tops and bottoms out on your bed and start putting together new combinations – dressy tops with tailored pants and a jacket for work, or with a sweater and a pair of jeans for the weekend.
Think out of the box: Combine different textures and colors than you've done in the past. Take a picture of your clothing "layout" so you don't forget it (add it to your Pinterest board if you have one).
3. Add color – especially if you've been living in dark colors or black since last fall. If you've had a personal color analysis, know that nearly any two colors in your palette can be used together so don't hold back. (For those unexpected color mixes, a scarf or a piece of jewelry with both colors in it will link them together, and provide comfort that it works!)
Personal note: I pulled out a jacket in dark purple from my corporate days, teamed it with a yellow tee shirt from summer and my basic black jeans, and it gave me an emotional lift. It also gave my jacket renewed purpose in my now much more casual lifestyle. (Purple + yellow = an attention-getting contrast color scheme.)
A word about white: In the dreary days of January, winter white feels fresh and makes a statement among the black coat/black leggings/black boot wearing crowds. Simple yet powerful, go head to toe in winter white for the ultimate closet refresh. The key? Combine tones and textures to add interest; and sculptural accessories will keep the look infinitely modern.
4. Scarves . . . tie them on! Great for adding a pop of color and/or a print or pattern, scarves multiply the way you can wear your basics.
Personal note: My dark colored pants and matching turtlenecks can be energized with a different scarf each day. Discovery: my dark orange scarf + teal blue sweater + brown pants = another contrast color scheme and is much more imaginative than brown + beige!
So . . . when you start to reach for those dark neutrals, take yourself out of the winter blahs – dig deeper into your closet, or shop wisely, and go from drab to fab without busting the bank!
Refreshing your closet is an evolution indeed, ongoing and ever-present. And spring is just around the corner!