Streamline Your Routine With "Closet Capsules"
My wardrobe strategy for smart travel packing – pack a few versatile pieces planned around coordinating colors – is one that can help you streamline your dressing every day. It's called a "capsule wardrobe." I use this concept when planning what to pack for every trip I take. Taking a small mix-and-match wardrobe means fewer pieces, lighter luggage. When you pack the right pieces, less is more! 
What does it mean in your closet at home?
How many times do you go to your closet and feel like you have nothing to wear – in spite of the number of items hanging there? If you create "closet capsules" within your wardrobe, you'll be able to put together several polished outfits that you can pick at a moment's notice. When your closet door opens up to a well-planned wardrobe of coordinated pieces, you spend less time thinking about what to wear.

First . . . what is a "capsule" wardrobe?
Simply stated, it's a small wardrobe made up of pieces that mix and match that you love to wear. Some would preach that instead of stuffing your closet with items you barely wear, take the Marie Kondo "Tidying Up" approach and strip down to a few key staples you love.
I suggest you think more strategically: Minimize your wardrobe into a collection of pieces that not only mix and match but also streamline your dressing routine, especially for work or travel. It means you'll no longer stand in front of your closet, wondering what on earth to wear!
The concept goes back to the 1970's and was initially referred to a collection of essential clothing items that don't go out of fashion – classics – that can be built upon each season with new pieces.
Today's capsule concept refers to building groups of 5-12 related pieces that can be worn in several different combinations. Building a working wardrobe for your lifestyle is easiest when you think and build in terms of "closet capsules" by lifestyle need: work, evening, travel, etc.

5 Benefits of Having "Closet Capsules"
Reduces decision fatigue – busy women have to make decisions every day; the removal of one – choosing your clothes in the morning – leaves you with more mental space and better productivity throughout the day.
Reduces stress – fewer decisions means one less source of anxiety during the day.
Saves time – getting ready in the morning becomes easier, quicker and more efficient.
Saves money – In 1930 the average American woman owned nine outfits. Today, it's 30 – one for every day of the month. Having closet capsules removes much of the expense from trial-and-error clothing purchases.
Reduces clutter – How many times have you purchased new clothes but ended up wearing your old favorites anyway? Those favorites might just be the foundation of a closet "capsule".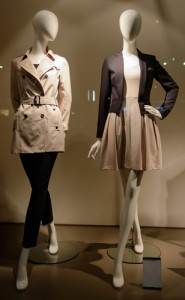 "Closet Capsule" Guidelines
There is no one formula for a capsule, but here are some guidelines:
●  Solids are easier to mix than patterns; but a few print pieces can be the links between diverse solids.
●  Simple styles are the most versatile, and classic lines will span several seasons.
●  Each piece should work with three others to gain you the most mileage. (Note: For my travel capsules, my goal is every top go with every bottom to give me the maximum outfit options.)
It should go without saying that every item should be in your most flattering colors and styles. Versatility is worthless if all those combinations don't flatter YOU!

How to Get Started
Ideally you start with the items already in your closet, and after a closet "clean out".  Look at your basic and/or favorite pieces in your best colors and most flattering styles, for example:
●  Your favorite interchangeable go-to items that form the backbone of your outfits – such as a pair of skinny jeans, classic pants, blazer, pencil skirt, cardigan, silk blouse, ballet flat and trench coat – could form a capsule that can span work and casual time.
●  You might have a favorite pair of black trousers, and a teal suit. You could wear the teal jacket with the pants and now you have two looks with one jacket. Other solid colors that would work with teal, such as white, could also go with the black. And that teal/black/white print blouse goes with all pieces. This is the start of a capsule.
●  For dressy occasions, a selection of separates – such as an evening pant or skirt, a camisole, a silky blouse and a jacket – can become a capsule to meet various needs through several seasons.
●  Accessories are the glue that holds your wardrobe together, linking separate items into new ensembles. Use them to update wardrobe classics or change an outfit instantly from a day to evening look.
Spring is around the corner. You'll be switching the clothes in your closet and doing a closet clean out – won't you? This is the perfect time to streamline your dressing routine and consider creating closet capsules.
Do you get stressed choosing what to wear each day? Do you need help in creating capsules in your closet? Send me an email or give me a call. We can assess your wardrobe together and determine the best foundations for capsules that suit your style and streamline your routine. The first 30 minutes is complimentary!