The Wardrobe Pieces You Need for Fall Travel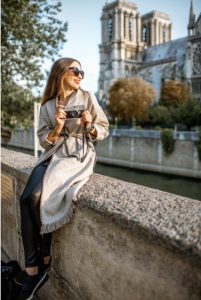 Summer will be over before you know it! Now is the time to plan for Fall travel. After throwing light summer dresses, sandals and swimsuits into a suitcase, it can be a shock to think about sweaters and shoes. For travel in the next few months, you might need to pack shoes that weigh more than a few ounces, add a jacket to your wardrobe, or tuck a shawl into your carry-on.
I'm here to rescue you from overstuffed luggage as I get ready for my own upcoming three-week trip to France. Although my trip is a month away, I already have my travel wardrobe rack up and have hung a few pieces to prompt my planning.
While shopping for new additions to my closet for fall, I'll be looking for pieces that meet the easy-care, wrinkle-free travel test and are both comfortable and smart. 
To help you and me with our Fall travel packing, I've reached to a few "smart-women-on-the-go" I know for their favorite travel wardrobe tips to add to my own:

1. Start with shoes . . . 3 pairs max!
The rule is: Wear one pair and pack only two. This time I'm taking a tip from frequent traveler Lynn B., who always plans her clothing around the shoes she wants to take.
I'll be visiting a mix of beachside resorts, country villages and cities so need comfy walking shoes for day and a lightweight shoe for evening. My choices include a pair of sturdy slip-on espadrilles – I love my black ones from Flexx – and a pair of sneakers. I just read about Tropicfeel's Monsoon sneakers and am considering ordering a pair to replace the ones I've had for a few years. I'll wear both shoes with Smartwool socks for day-long comfort. 
My third shoe is a rubber-soled flat from Clark's (similar here). Flight attendant Jacqueline P. loves the rubber-soled ballet flats by AGL. They are a bit pricey so watch for sales!
For flexible fit when walking, Billie M., who just returned from a world-wide cruise, likes the stretchable cross straps on her Mary Jane's by Skechers. Rebecca L. packs a similar shoe by Bernie Mev®, available from TravelSmith, as it pairs nicely with the athleisure attire she likes for travel (see below).
Sheila B. creates her own fashionable all-day walking shoes: She purchases a comfy pair of cushy shoe inserts with arch support and takes them shoe shopping. She fits them into a fashionable, rubber-soled shoe that is at least one size larger than what she normally wears and walks around the store for a test drive. If she feels like she's wearing her favorite athletic shoes, she has a winning combination.
Smart packing tip: Always waterproof your shoes before traveling to protect them from rain damage. There are several good products on the market. Click here for guidance. 

2. Choose travel-friendly tops and bottoms
The first step to traveling comfortably and wrinkle-free is to plan a wardrobe in the right fabrics. Wouldn't you love to roll up a blouse, pant or dress, tuck it into the corner of your suitcase, and know that it will look presentable upon arrival?
A little fiber and fabric knowledge will help you select the best clothes for your travel destination to keep you warm or cool, plus wrinkle-free. Click here for my tips on how to test fabrics and choose the best ones for travel.
I'm a fan of J. Jill's Wearever Collection of rayon and spandex knits and will definitely pack my black pull-on slim leg pants and long-sleeved tunic top from this line – they roll up for packing and can go from day to evening. I can also attest to the fact that if you wear the pants on a long flight they won't "knee-out" on you!
Neutral colors are easier to mix and match with tops and accessories; I prefer black and tan for the fall. For day touring this fall, I will take two more pairs of pants: a black jean and a black cotton/rayon/spandex blend pant from Talbots.
I also like to take one or two non-iron white shirts. One from Chico's is a favorite that can be worn with any pant I take for day or evening. Bonnie T., whom I often travel with, has become a fan of Chico's Travelers Collection for mix and match separates.
Cruise expert Rosemary B. loves the Joseph Ribkoff line for pants for evenings on a cruise. They have a great fit, are a little dressier in feel and are easy-care. I purchased a tunic top from this knit line a few years ago and still pack it for a dressier look in the evening.
Worldwide traveler Rebecca L loves the comfort and look of Athleta's athleisure wear. Pairing tunics with leggings and adding a scarf gives her a smart look with lots of comfort. (Click here to see her wardrobe for a trip to Japan.) To get added wear of any top or tunic before washing it, she wears a quick-drying camisole underneath and rinses that out at night.
3. Pack layers for cooler weather
Today's fabrics enable us to dress in layers without bulk. And layers you'll need for travel destinations during Fall's changing temperatures. Uniqlo is my favorite resource for pieces that take little room in a suitcase but provide huge benefit in adding warmth when needed: 
            – Heattech tank tops and tee-shirts to wear under a blouse or shirt
            – Merino wool sweaters, lightweight and washable, to wear over a shirt
            – Ultra Lite Down vests and jackets that roll up into a ball and tuck themselves into their own sack.

4. Pack a versatile wrap . . . better, yet tuck into your carry-on tote
A shawl, poncho or ruana can serve you well on the plane as a blanket and worn as a lightweight topper when touring. You might also wear it over a jacket for added warmth on a chillier day.
Terri T. loves the cashmere travel wrap she purchased from White + Warren just before her Spring trip to Japan. She used it on the plane for warmth and daily during breakfast in her Tokyo hotel to ward off the cold air from the A/C. And it was the perfect accent worn over her black dress for special dinners.
Although cashmere is not inexpensive, it is a best-investment fiber because you can wear it year-round. Garnet Hill also offers a cashmere wrap in a broad range of colors at a price that is a bit lower than White + Warren's. Another option is pashmina, although it will not be as warm. I often tuck my yellow pashmina shawl into my carry-on tote to wear on the plane or as a shawl over a black dress or top, or rolled as a scarf. 
A poncho or ruana will be a little heavier and warmer. I have a ruana-style shawl from the Jimmy Hourihan collection that was nice to travel with last fall and I'm considering it for this trip. 

5. Take a hat . . . for sun protection first and foremost . . . for style second!
A packable hat with UV protection is a smart investment. Even in the Fall the sun can be intense. Wallaroo offers a variety for spring/summer and fall/winter looks with UPF 50+ protection that will take you from the country to the city.
Terri T. loves the Betmar hat she bought for her trip to Japan. Its wide brim meets the sun protection guidelines of a minimum of 3" . . . and it crushed into whatever bag she carried during the day. If you don't want "hat hair" at the end of the day, consider packing a visor. I'll be taking my black Betmar visor on my trip this Fall.

6. Use a crossbody handbag
Frequent travelers agree that a crossbody bag is the easiest to travel and tour with. There's a good degree of safety and it keeps you hands-free. The goal is to choose one that carries your essentials for the day and is also light in weight.
I'll be using my Baggalini – made of lightweight yet sturdy nylon – for this upcoming trip. Its multiple pockets inside, outside pockets with zippers, plus a back pocket with a snap accommodates all of my travel and touring essentials, including a water bottle.  For evening use, I pack a clutch with a wrist strap. Note: The latest version of my Baggalini bag includes a removable RFID phone wristlet that will hold credit cards and an iPhone – perfect for the evening!
Are you ready for your Fall trip? NO? Don't panic . . . Here's how I can help:
In spite of all that you've read by others and me on packing light, do you still find that you wear only half of what you packed? Or, do you wish halfway into your trip you had packed "this" or "that"? Either scenario is maddening!
Smart packing takes careful planning.  Click here to read my post on how to plan what to pack for your trip and keep your luggage light. For specific packing lists for a variety of destinations, check out the Tips for Travelers newsletter on this website.
Are you still panicked over packing? If you would like personalized, one-on-one help with packing for your next trip, contact me. I can work with you to create a packing list with specific wardrobe recommendations for your destination.
BON VOYAGE!
Related posts:

• 6 Strategies for Packing Light
• Take the Panic Out of Packing
•  How to Choose Smart Travel Fabrics
•  Ten Tips for a Carry-on Vacation Wardrobe