Your Style Guide to a Wedding Weekend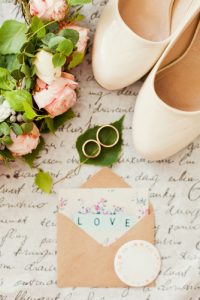 June has arrived and with it, the busy wedding season! Many weddings today are weekend-long celebrations with multiple events leading up to and after the nuptials. This requires thoughtful wardrobe planning for guests. And if you are traveling to the wedding, you'll also need to consider how to pack your choices.
I recently wrote an editorial on wedding guest attire for the online fashion boutique Halsbrook, featuring dress code tips and chic fashions to guide their customers in making selections for each event. In this post, I take a closer look at the rules of etiquette; and for those who have to travel to the wedding, provide suggestions on choosing wardrobe pieces to make packing easier.
First, some general guidelines:
● Don't upstage the bride! Avoid white or shades close to white for any event; they are reserved for the bride. I also recommend avoiding red – it can steal the spotlight, another no-no since it's the bride's day!
● Dressing for a summer wedding means looking your best while keeping cool. Focus on wearing light, airy and breathable fabrics – like rayon, cotton, linen or silk, so you don't get overheated during an outdoor event. Knits usually travel better than woven fabrics and can be ideal for the more casual events. Stretch woven fabrics with spandex behave more like a knit. A woven crepe or piqué might meet the crush test for travel, but all woven fabrics will wrinkle less when carefully folded. For tips on packing pressed clothes and more formal attire, watch my packing video before your trip.
● Consider separates for some of the events so one or two pieces can be worn more than once – this will help keep your luggage lighter. For example, a dress pant could be worn with a dressy blouse for a "Welcome Cocktail Party" and with another top or jacket and different accessories for a luncheon.
When planning your full weekend wardrobe, start with the main event – it sets the theme for the activities leading up to and following the ceremony:

The Wedding & Reception
Your attire should reflect the mood of the wedding and the time of day. The invitation will often note dress code but if not, the style of the invitation and the time of the wedding is the best guide to its formality: An invitation that feels casual suggests casual attire. If the invitation is more formal (heavy cardstock, engraving, tissue paper inside, calligraphy on the envelope) you should wear more formal attire. Generally speaking, the later the wedding and reception, the dressier you should be.
Consider these color and style guidelines, plus protocols, when choosing what to wear:
● For an evening wedding choose darker colors; lighter hues are preferable for a daytime wedding.
● Black should not be worn unless the ceremony is after 5 pm. If the wedding is earlier, remember to choose a color that won't outshine the bride.
● If the wedding is in a church or synagogue, dress respectively, covering bare arms and neckline with a wrap or jacket.
● A tea length dress is a safe choice for most weddings – it can go from black tie to the beach!
● A country atmosphere calls for something in a similar feel, such as a floral dress.
● A city wedding usually calls for more sophisticated attire: a dress with a jacket for the day; a long or short formal dress for the evening. If dresses are not your style, a dressy suit is very appropriate.
● And what about the often-used code of "Black Tie Optional"? A short festive dress (one with a bit of shimmer in the fabric or with sequins or jeweled details) is appropriate unless you know others are going to wear long.
After you've decided on your attire for the wedding and reception, you can plan for the other events:
Welcome Party
Depending upon the venue (is it on a hotel patio or at the bride's parents' home?) and your personal style, your choice could be dressy pants or a soft skirt with a silky top, or a dress in a colorful print.
The Rehearsal Dinner
Consider the venue and the wedding theme when deciding what to wear, then choose attire slightly less formal than what you are wearing to the wedding. A cocktail dress worn with pumps is often the perfect choice. A dress pant with a dressy blouse and heels is also appropriate.
Wedding Day Lunch
Lunches and brunches are less formal and your choice of dress depends on the venue. A dressy pant with a long silky top, or a dress with heels and simple jewelry, is a perfect choice for a restaurant or country club. If the setting is more casual, such as an outside barbecue, jeans and a knit top or blouse with flats are appropriate.
Farewell Brunch
Brunch the day after the wedding is typically the most casual event since many people must be ready to travel home. You can't go wrong with a knit tee-shirt dress or capri pants worn with a knit tee and jacket or sweater. Either will be comfortable to travel in and you are dressed stylishly to honor your host and hostess.
Note: If you are unsure about the dress code, it's perfectly okay to ask the bride or her family what style of dress they prefer; or to reach to a member of the wedding party that you know.
If you still need help planning what to wear, or how to pack for your weekend trip, don't hesitate to give me a call or send me an email for a complimentary 30-minute consultation on how to be the "best dressed guest"!