Your Guide to Athleisure Wear
I'm pleased to publish this guest post by Regina Due: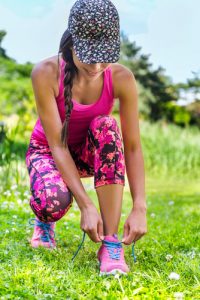 Athleisure wear is everywhere and it's easy to see why. This easy-to-wear trend is casual, comfortable and so stylish. But, is it right for you? Celebrities of every age have proven that this look knows no age barriers, so it just might be the time to figure out exactly how to work this trend into your everyday wear. From play to work, this guide for women on how to wear athleisure at any age will show you why this is a trend that's here to stay—and why so many women couldn't be happier.
1. Gym to Street
One of the most common interpretations of athleisure – the gym-to-street look – is pretty much exactly what it sounds like. You finish up at the gym and throw on a couple of layers to get some errands done or meet a friend for coffee. This is the easiest way to rock the athleisure trend because many of you are probably already doing it! Stock up on light, flexible top layers to wear over your cute bra tops and tanks; athletic pants; and clean, stylish women's trainers.
Leslie's note: Unless you still have the tight bottom and slim hips of your youth, your top layer should cover your backside when you take your workout clothes to the street. My personal favorite is a jacket with a hi-lo hem when it's chilly or a tunic top in warmer weather.
2. Casual Friday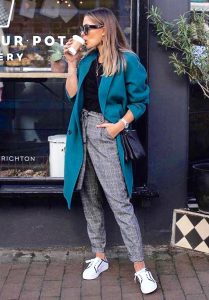 The athleisure trend can be worn 24/7 and yes, for some women even to work. Next casual Friday, try incorporating some of the athleisure aspects into your work wardrobe – but be certain your look is dress code compliant. While sneakers might not be welcome at the office, you can definitely rock jogger pants with a slouchy sweater, high-waisted pants and a flowy top (like the one you'd throw on after a yoga class) or add in subtle athletic details like racing stripes or lacing.
3. Date Night
Your next date night is the perfect opportunity to show off your athleisure style. It's flattering, down to earth, and so much more comfortable than a restrictive little black dress. Ditch the Spanx and instead slip into a fitted midi dress and stylish sneakers; add a blazer, denim jacket, or bomber jacket to pull it all together. You'll look casual but put together, and it will take some of the pressure off of a first date.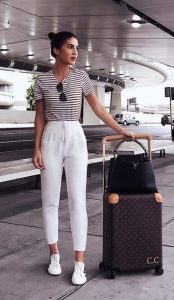 4. Travel
Athleisure was born for long travel days! Whether you're travelling for work or heading somewhere tropical, start your trip right with comfortable clothes that make you feel like you're on vacation—even if you're heading for a mind-numbing weekend conference. Celebrities have long rocked the athleisure airport look, and now it's your turn.
Pair leggings with a tank and a long-sleeved shirt, topped off with a baseball cap and clean, fresh sneakers. Or, simply swap out a pair of jeans for athleisure pants. If you want something a little dressier, opt for a cotton, sporty sheath dress, sneakers, and a casual jacket. On a long flight, you'll feel so relaxed and comfortable you might not even notice that turbulence.
Leslie's note: Comfortable clothes for airline travel is NOT to be interpreted as "gym to street"! I'm shocked at the number of women – young and older – who travel in the same bra tops, tights and tanks that they work out in. I don't care how physically fit you are – please cover up! I favor black leggings paired with a tank top under a long no-iron white shirt. I throw a sweater around my shoulders and I'm set for the flight. And, I prefer a slip-on shoe to a lace-up that might slow down the security check process.
Leslie's final note:  Many thanks to Regina Due – a fashion aficionado who loves to empower women through her writing and fashion tips – for this guest blog post . . . and for letting me add my thoughts!