Take the Panic Out of Packing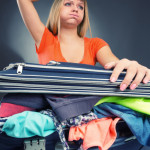 Do you struggle with a large suitcase on a trip but only wear half of what you've packed? Or are you at the other extreme, throwing things into a suitcase just a few hours before leaving for the airport and praying you'll have the right things to wear? Both scenarios can be maddening!
Panic-free packing is a result of careful planning. It's time well spent so you can relax and travel with confidence and ease.
Planning Ahead is Key
My husband and I are traveling south this week – way south to Buenos Aires and the Argentinian wine country. For him, it's to revisit the sites of his early-career business travel and taste the wines of the Uco Valley. For me, it's finally seeing "Paris of the South"…and tasting the wines of the Uco Valley!
Planning my wardrobe for this trip was a little challenging because Argentina's seasons are reversed from ours in the U.S. Planning well ahead of our departure date was critical since I had need of a few new city-chic yet hot-weather-comfortable pieces.
End-of-summer sales reaped a few nice basics but online research and shopping resulted in bigger wins. The weather will be in the 80's & 90's, with high humidity. Light cotton gauze is a good easy-care, easy-to-wear fabric for the casual tropics, but it's not city-chic. I focused instead on lightweight, breathable, and travel-friendly rayon knits and added separates from J. Jill's Wherever Collection to my travel wardrobe.
Easy Packing is a Process
1.  A week to 10 days before a trip I set up a collapsible clothes rack in our guest room. I hang up every clothing item I'm considering taking. This rack makes coordination of separates easier (four tops can hang by one pair of pants); shoes go on the floor below matching up with the selected clothes.
Note:  When I lived in a New York City apartment, I didn't have a spare bedroom so I hung a clothing rack over our bedroom door. You might use a section of your closet. The key is to see everything before you edit and start packing.
2.  I chart out each day of my trip on a blank calendar page, noting where I'll be and expected activity, day and night. Glancing at the rack of clothing, I plan what I could wear each day, and make a note on my calendar. This exercise helps me edit my wardrobe.
Note:  The calendar also provides me with a daily wardrobe guide when I unpack at my destination. I don't need to think about what to wear – I look at my notes and I'm dressed and out the door.
3.  I try everything on, creating outfits and adding accessories that will be the most versatile with all clothing.
Note:  My mantra is to "pack smart, pack light":
•  Each top should go with each bottom. Take more tops than bottoms.
•  Neutral colors are the most versatile. Black/white/beige are my favorites for warm weather travel (city-chic and also country smart).
•  Plan to wear each item several times during the trip (accessories are another key to versatility and they can take wardrobe basics from day to evening).
•  Double-duty items are golden – a tunic-length blouse that can also be worn as a jacket over a camisole.
•  Limit shoes to 3 pairs and be sure to include a comfortable, supportive pair for daytime walking.
4.  I check out all of my toiletries and cosmetics to be sure they are replenished and ready to pack. I collect samples of my favorite skin care products and save them for trips; others are transferred to travel-size, leak-proof containers…and I follow the 3-1-1 rule whether I'm checking them or not. It keeps my luggage light.
Note:  Most hotels have shampoo, conditioner and body lotions, so you might only need to bring the toiletries that you cannot live without.
5.  I prep a little each day or night before I leave to spread the chore out. For those of you who tend to over-pack: Look at your rack of travel clothing frequently and use this time to edit, following the tips in #3 above.
Note:  Ignore the urge to keep in any "but what if…" items. Smart travelers plan what to pack based on the weather and activities, packing only for what is known and logical possibilities. (There's nothing wrong with shopping for a suddenly needed item when you get there – that's part of the fun of travel!)
6.  I do my final packing the day before departure. Before you shut your suitcase, however, check the weather forecast again for your destination. Forecasts change daily and if you didn't think you'd need that extra sweater yesterday, now you might!
I'm ready, relaxed and off to Argentina! Follow me on Facebook, where I'll share street scenes of Buenos Aires, shopping highlights, and the beauty of the vineyards in the Mendoza wine country!
Click here for more tips on travel wardrobes and watch this video to see how I packed my suitcase.
I'll be sharing specifics on my trip and travel wardrobe in the next edition of Susan Foster's and my Smart Packing "Tips for Travelers" e-newsletter. I invite you to subscribe!