How to Choose Smart Travel Fabrics
Do you want to travel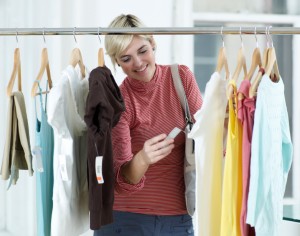 comfortably and wrinkle-free? Then choose your fabrics wisely. With the right fabrics you can roll up a blouse, pant or dress, tuck it into the corner of a suitcase, and expect it to look presentable upon arrival!
A little fiber and fabric savvy will help you select the best clothes for your travel destination to keep you warm or cool, plus wrinkle-free.
For example, I own two pair of black summer pants. One is 100% cotton and looks lived in at the end of the day. The other is 94% cotton/6% spandex, which I prefer for travel – the spandex adds "comfort stretch" and wrinkle recovery so I can wear the pant several times during a trip without it looking worn out.
CAREFREE TRAVEL FABRICS
You can't beat knits for comfort and packability – they can be rolled successfully and wrinkle less than most woven fabrics. Stretch wovens with spandex behave more like a knit than a woven.
Soft fabrics usually wrinkle less than crisp ones. Washable, drip-dry synthetics are easy-care. Many of the new synthetic fibers "wick" moisture away from your body so they are cool and comfortable even for adventure travel. Fabrics with intentional wrinkles, such as crinkled rayon crepe or cotton gauze, ensure wrinkle-free packing.

Will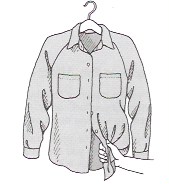 the Fabric Perform?
Here are some easy tests from Smart Packing for Today's Traveler by Susan Foster to help you decide if the fabric is travel worthy:
Will it wrinkle? – Grab a corner of the fabric and crush it in your hand. Hold it for 30 seconds, letting your hand warmth and moisture penetrate the fabric…then let go. If the fabric doesn't wrinkle, it's a good choice. If it does wrinkle but the wrinkles shake out after a minute or two, it's also a good choice.
Will it retain its shape? – There's nothing more annoying than baggy knees or a sagging back in a pant. Check for shape retention by stretching the fabric between your thumbs and forefingers, holding it for 10 seconds. If the yarns slip apart easily, normal wear could cause stress on the seams. If there's no yarn shifting and the fabric springs back after stretching, it will hold its shape when worn. Generally, woven fabrics hold their shape better than knits; synthetic fibers better than natural ones.
Will it breathe? Hold the fabric to your mouth and blow through it. If no air passes through, the fabric doesn't breathe and might feel like a plastic bag on your body.
Smart Packing Tip: Sometimes it seems that no matter how carefully you've packed, an item or two has a bothersome wrinkle. A spritz of plain water on washable fabrics can calm packing wrinkles. The trick is to spritz the hanging item lightly (my friend Susan tucks a 2-oz. refillable spray bottle into her luggage for this purpose), then smooth gently and allow it to dry.
FIBER & FABRIC PRIMER
Read on to learn which fibers are the most easy-care, which to choose for warmth, and which will keep you cool. Bookmark this post for future reference when you are planning your next trip.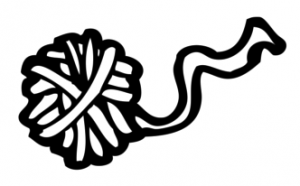 Natural Fibers
Wool: A great insulating fiber and all-season fabric except in the hottest, most humid climates. Wool retains warm air and keeps moisture out, keeping you warm; it also absorbs moisture from your skin to keep you cool and dry. "Merino" wool is lightweight, warm and packs small. Note: A merino wool sweater is the perfect layering piece in any weather and adventure travelers love the comfort of thin merino wool for under layers.
Cotton: A travel favorite in jeans, t-shirts and turtlenecks; however, these items are more carefree when made of a cotton/polyester or cotton/lycra blend – they'll resist wrinkling and wash and dry more easily. Wrinkle-resistant finishes applied to cotton also cut down on wrinkling. Note: I love to travel with crisp white no-iron shirts…the negative is they don't have the breathability I need in humid weather.
Linen: Cool and comfortable even in the hottest, most humid weather. It absorbs perspiration, doesn't cling to the body, and dries quickly…but it wrinkles! Note: Look for linen blended with other easy-care fibers to create a fabric that wrinkles less.
Silk: Luxurious yet durable and wrinkle-resistant. It's insulating and warm yet lightweight. (I still pack a silk camisole I've had for years to layer under a blouse in cool climates.) Heavier weight, textured silks, silk knits or "washable silk" (pretreated to minimize shrinkage) have superb travel performance and style. Leave the lightweight, dry-clean only silks at home – they're high maintenance.

Synthetics
Most man-made fibers have great travel properties:

Rayon – Made from wood pulp, it has a soft drape, is highly absorbent and cooler than linen and cotton. Tencel® is a popular brand name for "high-tech" rayon. It might wrinkle when packed but any wrinkles hang out quickly.
Nylon – Strong, easy to wash, quick drying, and doesn't cling to dirt. However, its low moisture absorbency makes it feel clammy in hot weather – not good for trips to hot, humid locales.
Polyester – Also a strong, durable and wrinkle resistant fabric that dries very quickly, it does not absorb moisture…so it can feel clammy in hot weather. But there are two polyester travel favorites:
– Polyester fleece – Soft, warm, breathable and strong, this machine washable and dryable fabric is lighter than wool, giving you warmth without weight. Two names often seen are Polartec® and Polarfleece®.
– CoolMax –Designed to move or "wick" perspiration away from the body, it has the fastest drying rate of any fabric. Found in shirts, pants, undies, socks and sports bras. There are many other trade names for "wicking" fabrics, including Dri-Fit, Dri-Power, Dri-Release. Look at hang tags for the key words "wicking" and "dry".
Microfibers – Synthetic fibers that are so fine it takes 100 of them to equal one human hair! Made from polyester, nylon, rayon or acrylic, they're often blended with other fibers. Microfiber fabrics are excellent for travel – they are lightweight, durable, wrinkle resistant, easy-care, water repellent and wind resistant. And they wick and breathe. A favorite of mine are Uniglo's HEATTECH t-shirts. I pack them by habit now to wear alone or as an under layer for warmth.
Develop your fiber and fabric savvy – a travel wardrobe that is both comfortable and wrinkle-free will make all the difference on your next trip!
If you would like more guidance and a personalized approach to planning your next travel wardrobe, contact me for an in-person or virtual consultation. Our first half-hour together is complimentary!