Decoding Holiday Dress Codes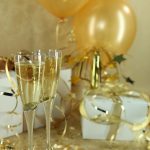 The holiday season has arrived and with it invitations to everything from cocktails to office parties to New Year's Eve dinners.
They all contain those coded party terms: "cocktail," "festive," "formal," "semi-formal," "casual chic." How do you interpret the requested attire?
Don't stress! Let the following guidelines take the wonder out of what to wear:
Formal (a.k.a. Black Tie)
Traditionally this called for a long, elegant gown but today your choices range from a long dress to a more formal cocktail dress to dressy silk, satin or beaded separates.
What about color? At one time black tie meant a black dress, but now color is acceptable – and jewel tones, including holiday's red and green, are perfect for winter.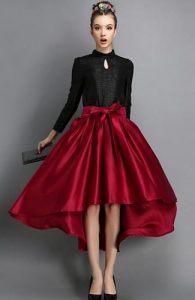 When it comes to black tie formal one is expected to go all out. Wear some sparkle and shine: a sparkly necklace or chandelier earrings (but never both), a beaded or metallic clutch, and super shoes all help to complete your ensemble. But don't overdo it; this is the time for classic elegance. And please take note: If wearing a cocktail dress, be sure it is no shorter than a touch above the knee to keep it "formal."
Semi-Formal (a.k.a. Black Tie Optional)
This is a more relaxed version of black tie. A long gown is appropriate if your date is in a tux; a cocktail dress in a dressy fabric (lace, satin or silk) should be your choice if he opts for a suit. Elegant evening separates are also an option. And yes, shimmer and shine fit the bill for this occasion!
Cocktail Attire
"Cocktail" is one of the most common dress codes seen on invitations. It's also the easiest to interpret. It generally means a short dress that is party-ready but silky or satiny separates are definitely appropriate. When in doubt, wear a little black dress and dress it up with fun jewelry. Up the wow factor with an interesting silhouette or color and don't be afraid to shine bright!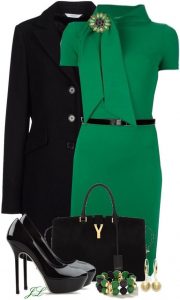 Business Formal
This is the dress code suggestion for daytime semi-formal events, particularly work lunches and conferences. You want to wear something business appropriate that also feels dressed up. It's almost the same thing as cocktail or semi-formal, where a short formal dress is appropriate, but the "business" part says suit – and yes, a pantsuit is appropriate – or a conservative dress. No slinky or overly sexy dresses! Let your jewelry, or perhaps a satin blouse, add the holiday flare.
Festive Attire
Festive is similar to cocktail attire, but with a holiday bent, such as a sparkly sequin dress, a sweater with hints of sparkle or metallic with black pants, or a red silk blouse with a simple black skirt or pant. Add more glad tidings with statement accents: red pumps or a glittery clutch. And if the temperature drops below freezing, you can layer with a jeweled cardigan, opaque tights and heeled booties.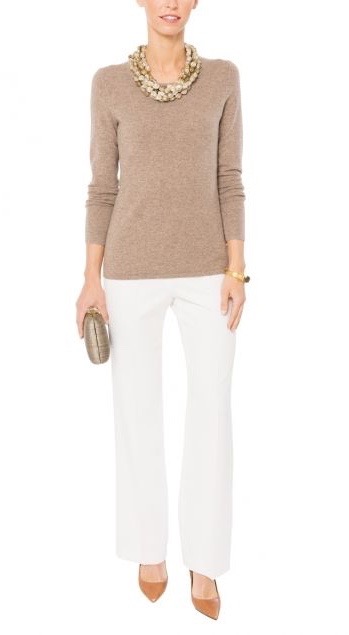 Festive, Dressy or Smart Casual/Casual Chic
This is a dress-up/dress-down hybrid. The good news is you have the chance to be comfy while looking chic. But it doesn't mean you break out the ugly Christmas sweaters (please don't)!
Festive is all about taking a classic look or color and jazzing it up for the holidays. Stick to one or two pieces of jewelry and don't forget a dressier bag or clutch – anything that has a little bit of sparkle.
You could also pair a weekend staple with something glamorous—for example, a nice pair of dark jeans with a bow blouse and heeled booties or ornate flats. A pair of tailored pants with a bright cardigan is also perfect; add a scarf infused with hints of holiday hues. The goal is to be polished but not uptight!
Do you have the pieces but lack the confidence to put it all together for this season's parties? Or do you need a little guidance on exactly what to buy to fill your party wardrobe gaps? Don't hesitate to give me a call or send me an email for a complimentary 30-minute consultation. It will be my pleasure to assist you!
Editor's note: Fashion photos, top to bottom: Pinterest, Polyvore, Halsbrook.com