How to Build a Wardrobe of Classics that Work with Trends
Fall is just around corner! Think smart about your wardrobe planning:
Guest post by Regina Due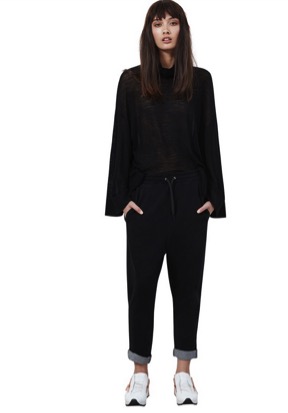 When you have a career, a family to take care of, or a thousand little things that need to be ticked off your "to-do" list, trying to catch up with the latest fashion trends can feel like a waste of time.
Not only that, but trying to keep up with every fashion trend can be mind boggling – there is always something new you should know about! How do you create a "modern" style for yourself when you're so busy doing what needs to be done? The answer is a well-stocked closet of basics and classic designs; then it's faster and easier to have some fun with trends.

Invest in Basic Tops
Stocking up on good quality, well-fitting tops – such as sleek knitwear in neutral black, blue and winter white, and fitted T shirts in your best colors – will leave you with a good starting point for building your everyday style. Once you have piled up on the basics that fit you well and flatter your body shape, then you can treat these as a blank canvas and play with the seasonal trends you like – such as pairing a pleated skirt in a pastel or a metallic shade with a plain white T shirt, or wearing a lace midi skirt with your simple black knit top.
Find the Right Pant
Pants are staples in every woman's closet. Whether you prefer a skinny silhouette, a bootleg, or a trouser, investing in at least two pair that flatter your body shape will give you the staples you need for any occasion, regardless of whether you are heading to work or to an evening dinner party. Once you have your classic bottom piece in check, then you can have fun with trendier items. For example, instead of your usual buttoned-up white shirt and trousers combo, pair the trouser with a statement embellished knit top or a pretty blouse with a bow.

Add Something Sheer
From sheer tops to skirts, it seems like the fashion world often wants us to show off more than we would usually dare. But you can play the sheer game by your own rules. Find classically designed pieces like a simple T shirt or a blouse that has a sheer feature, such as sheer sleeves or a sheer panel on the shoulders and collar bone area. Then you will always have a fashion piece in your closet that is classic but slightly daring to wear for a special occasion.

Invest in Statement Jewelry
Sometimes all you need is an accessory to take your look from classic to trendy, boring to beautiful. Statement jewelry is a fall 2016 trend; consider investing in a bold piece of jewelry for those occasions when you need to take your simple outfit to the next level or channel a more sophisticated style.

Add Leather
Nothing is more timeless, yet modern and youthful, than a great leather jacket. Worn for the office or for an evening gathering, with denim for running errands, or even worn with your gym gear, a leather jacket can take most anything from looking good to looking great.
Have Fun with Shoes
White sneakers (see image above) combine the classic old-school design of casual sneakers with a high fashion texture, and the result is absolutely gorgeous. Casual yet elegant, punk yet mainstream, sneakers manage to stay surprisingly versatile in a typically "high heel" world.
Image credit: Ginger and Smart
These are some of the ways you can arm your closet with lasting and beautiful staples to help take your everyday style to the next level. What is your go-to fashion staple? Share your thoughts below!

Editor's Note:  This blog post was written by Regina Due, a fashion aficionado who loves to empower women through her writing and fashion tips. Thank you, Regina!