Polish Your Look With a Scarf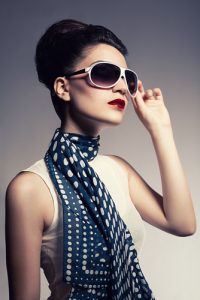 Practical and versatile, scarves are valuable accessories that can expand your wardrobe, update an outfit and polish your look.
Scarves can also be used to help project your personal style – some prints say "classic" while others express a more "romantic" or "dramatic" feel. Multi-colored scarves are excellent tools for linking separates in different colors. And as a bonus, a scarf worn near your face draws attention up and away from figure challenges!
Good scarves never go out of style – by investing in scarves you love and following current scarf tying trends you can use a great scarf for years.
What's Your Best Scarf Look?
Just as there are elements of clothing design that suit one body type better than another, there are certain types of scarves that are a better fit for some women than for others. Color is not the only consideration – fabric, shape and size are equally important to creating a flattering look:
● If you are petite, you need to be careful that a scarf does not overwhelm you. If it seems that all you see is scarf when you look in the mirror, the scarf is wearing you versus working for you.
●  If you have a very full bust, stay away from scarf volume at your bustline. An oblong lightweight scarf tied in a long vertical line will be much more flattering.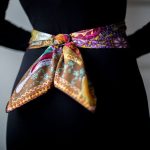 ●  Tie a scarf around your waist to highlight a narrow waistline or give the illusion of a waistline curve. (Slip a colorful scarf through the loops of your jeans and tie a knot – instant polish!)
● If you are tall and thin, you can wear larger scarves and fuller fabrics. If you are just the opposite keep in mind that a scarf tied near the neckline draws attention upward, creating a taller, trimmer appearance.
Scarf Design Basics
●  Oblong (typically 15" x 60") scarves are considered the most versatile for tying, although a large square can be folded into a triangle or rectangle before tying, providing options. My personal favorite is a 36" square that I can wear at my neck, around the shoulders, or tie at my waist.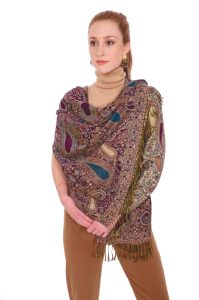 ●  Silk scarves are the easiest to tie and drape beautifully. 
●  What about synthetics? Only the finest silky polyesters can come close to the beauty of silk. However, silk-like polyesters have an advantage in wrinkle resistance and ease of care.
●  Cotton scarves are casual – wear them only with your jeans or other sportswear.
●  Wool and rayon challis scarves are nice when there's a chill in the air but they are bulky to tie. If it's just the color you're after, try draping them over a shoulder instead. 
●  Multicolor print scarves are more versatile and a better investment as they will work with more things and can unify different color combinations of solid pieces.
● An "infinity scarf" is a continuous loop of fabric – easy to drape and does not require tying.
How to Shop for Scarves
●  A scarf should be an integral part of any outfit – avoid scarves in colors that don't match or complement anything in your wardrobe.
●  Only invest in scarves in your most flattering colors. A print that has a touch of your hair color in it will be particularly flattering. (Note: This is the value of having a personal color analysis and shopping with your color palette.)
●  A print with white/crème or black in it will be more versatile than one without as you could also wear it with either solid as a complementary accent.
Smart packing tip: One black dress (or a black pant and top) plus 3 different scarves can give you a weekend of different looks! That's traveling both smart and light!
There's More Than One Way to Wear a Scarf
A beautiful scarf can benefit from a simple tie or loop treatment that allows the design to show fully. Pinterest is a great resource for inspiration.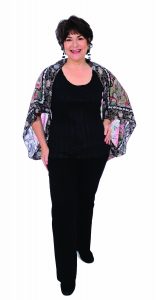 An easy way to hold a scarf in place is with a scarf ring. Hermès has a beautiful collection (and many photos of how to use them), but you can find a wide assortment at much lower prices on sites such as Etsy.
If making more than a loop stumps you, you'll find many scarf tying tutorials online as well as how-to apps for your smartphone. I love Nordstrom's video on their blog – 4 scarves tied 16 ways. I also recommend downloading the free Hermès Silk Knots app to your smartphone. Set aside an hour, pull out your favorite scarves, watch the videos . . . then stand in front of a mirror and practice, practice, practice!

Smart travel tip: Need a dress wrap in a hurry? Take the large square scarf you packed and tie the two pairs of adjacent corners together with tiny square knots, forming two "sleeves." Slip your arms through and voilà – a kimono wrap! This is a lovely way of showcasing the center motif of the scarf, whether worn while traveling or to an event at home.
How to Care For and Store Your Scarves

●  Keep your scarves clean, pressed and ready to wear. Scarves carry oils from the neck and hair. I have my silks dry-cleaned; most synthetics can be carefully hand washed (be sure to save any tag you clip off – carefully! – for a reminder of care instructions.)
●  Give your scarves the respect they deserve. An overstuffed scarf ring or a drawer or basket filled with scarves tossed in randomly makes me shudder! In either case, finding the right scarf to polish your look could take you forever.
I used to keep my precious Hermès scarves in their beautiful boxes but it slowed down my dressing routine. Now hanging, they are a joy to see each time I go into my closet – and I can choose one quickly.
●  Separate your scarves by color, fabric and or size and shape, then consider these techniques:
– Oblongs and infinities hang nicely on scarf rings. Fold lengthwise first and hang just once scarf per ring.
– Medium to large squares can be folded once and draped over the bars of tiered pant hangers. I use the velvet-coated hangers with bars that pivot – I can hang 2 scarves on each bar and easily see the colors of all.
– Large cotton, wool or gauze squares and pashminas should be folded on a shelf.
How are you curating the scarves in your own closet?  Let us know in the comment section below. If you need help contact me for a complimentary 30-minute consultation on how to polish your wardrobe with scarves.
Picture notes: Bottom three from Looking Good . . . Every Day by Nancy Nix-Rice, in which you will find an excellent chapter on scarves!