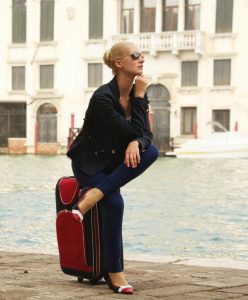 How many times have you struggled with a large suitcase on a trip and returned home to exclaim, "I took way too much and didn't need half of what I packed!" Do I now hear a vow that you will fine tune your packing skills . . . but you don't know how?
"Pack light, pack smart" is my mantra and it can be yours, too.
My husband and I will be vacationing in Italy for 3 weeks in May, first in Umbria where we have rented a villa, then down to Puglia and the coast on the Adriatic Sea. I've already started planning my wardrobe, focused on day touring, dining out and entertaining friends. I'll be packing it all into a 21-inch carry-on bag that will make plane, train and car travel easier.
How? Here are six wardrobe strategies to help you scale down to one light suitcase. I've also noted some of my favorite travel wardrobe pieces:
1. Limit your color palette. Keep it simple and plan around 2 or 3 neutral colors. For spring travel, my favorites are black and beige. Worn together they are a classic combination; independently both mix well with other colors. If you're traveling to an urban destination any combination of black, white, navy and gray is good. For a beach or country trip, khaki and white are good choices for your basics. Scarves are lightweight additions to add pops of color.
2. Pack versatile pieces that can mix and match and plan to wear each item more than once. The knit jacket that I plan to wear on the plane with a t-shirt and leggings can also be worn with my jeans for touring or dressed up for a casual dinner. Consider items that can do double duty, such as a blouse that can also be worn jacket-style over a camisole, a long t-shirt that can serve as a pool cover-up, flip flops as slippers and poolside wear.
3. Take more tops than bottoms. Multiple tops will maximize the wear of a pant or skirt and tops weigh less, take less room, and are easier to launder. Unless you will be able to do machine laundry, pack tops that you can hand wash, drip-dry, and don't require ironing. (A personal favorite for spring/summer travel is the striped tee with UV protection from Saint James.)
4. Pack lightweight items that can be layered for warmth. Two thin sweaters (turtleneck + merino wool cardigan or pullover) are as warm as one bulky sweater, are more versatile, and take less space.
How many pieces do you need? Two pairs of pants, plus 4 to 6 tops, plus one jacket can meet your needs for one week. For two or more weeks, I take 1 or 2 additional bottoms (pant and/or skirt) and more tops. You might choose to pack a dress instead (my go-to summer travel dress is also from Saint James). If a dressy event is on your schedule, don't pack a "one-off" outfit. Consider a lace top to dress up your black pants.
Some of my favorite travel pieces are from J.Jill's Wherever Collection (rayon knits that are comfortable, breathable and travel beautifully without bagging). I also love Chico's no-iron shirts for a crisp look both day and evening. And to keep me warm on cool days, I love my Heattech t-shirts; if really chilly weather is possible in goes my down vest from Uniqlo that compresses into a little ball for packing.
5. Exercise shoe control. You really only need three pairs on most trips. For example: sneakers for exercise, a comfortable walking shoe for day, and ballet flats or heeled sandals for evening. (I don't count flip flops as shoes since they pack flat.) Travel in one pair and pack the others. Make sure that all shoes have been broken in before your trip; cute shoes that kill your feet are a waste of space!  Note: I'm packing my new leather espadrilles for daytime walking.
6. Ignore the urge to add in "but what if . . . " Plan what to pack based on the weather and your activities, packing for what is known as well as logical possibilities. Logical: rain, so I'm packing my lightweight hooded waterproof jacket (that does double-duty as a windbreaker on morning exercise walks). Not logical: an impromptu formal evening. (If that comes up I have an excuse to shop!)
Pack it up!
You can get more into your bag if you know how to pack it. The key is to make use of every inch of real estate in the bag. Fill shoes with rolled up socks, belts, jewelry in a soft pouch, or underwear. A combination of rolling and folding makes the best use of space for your clothing. For instructions on how to pack your suitcase, watch my packing videos. For trip-specific packing lists visit our Tips for Travelers newsletter page.
Note: Packing light requires careful planning far enough in advance. Don't leave this website until you have also read my previous post on panic-free packing!
BUON VIAGGIO!